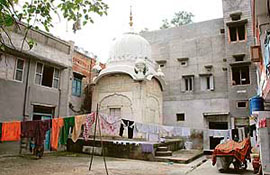 Ignored heritage: A view of the haveli of Bhai Wasti Ram in Amritsar which is surrounded by tall buildings.
Even as the samadh of Bhai Wasti Ram, the t revered Sehajdhari Sikh of the 18th century and a contemporary of Maharaja Ranjit Singh, was demolished in December 1992 by a Muslim mob and still lies unattended outside the Lahore Fort, a major portion of his magnificent haveli in Amritsar stands encroached upon.
Though the demolition of his samadh in Lahore had hit the headlines, nobody bothered to preserve the heritage situated in Amritsar. The local heritage site is fast losing sheen despite repeated requests made by Amit Gauri, alias Rajat Gauri, the eighth direct descendant of Bhai Wasti Ram.
The magnificent monument is situated in the local Dhab Wasti Ram, which is named after Bhai Sahib, is in a bad shape. So much so, the two-century-old beautiful frescos in the samadh of Bhai Sahai Ram, younger brother of Bhai Wasti Ram, situated on the premises of the haveli has been whitewashed. Tall buildings, constructed on the very premises of heritage site, have surrounded both the monuments.
Dhab Wasti Ram is famous business centre of the holy city. Bhai Wasti Ram used to be visited by many great warriors of the 18th century. He was well versed in Sikh scriptures and enjoyed considerable influence in the Sikh community. One of the direct descendants of Bhai Wasti Ram, Inder Singh served as principal of Khalsa College, says Amit Gauri.
Chief Minister Parkash Singh Badal visited the place many times to mark the beginning of shobha yatra to mark the Janamashtami , but nobody bothered to look into the heritage value of the place.
A visit to the site revealed that the samadh of the younger brother of Bhai Wasti Ram is not visible from outside due to the mushrooming of the tall buildings. Amit Gauri sought reviving the pristine glory of the monuments. The monuments of Bhai Wasti Ram and his younger brother were built at the behest of Maharaja Ranjit Singh.
Bhai Wasti Ram lived through the long period of persecution the Sikhs during t terrified period and he was also witness to the rise of the community to political power in Punjab.
According to historians, Bhai Wasti Ram devoted himself to the study of medicine, and became famous for his skill in the use of indigenous herbs. He used to treat his patients free of charge. Bhai Wasti Ram died in 1802 at the ripe age of 94. A marble samadh was raised near the Lahore Fort at the spot where he was cremated. Maharaja Ranjit Singh used to visit it on the occasion of his death anniversary. However, the frenzied Muslims demolished the samadh in 1992.