It is the infectitious festive mood that has overtaken Patiala all over again. The celebratory atphere pervades the city. Old historic buildings have been lit up, facade lights installed at the heritage buildings, including the Secretariat of Punjab State Electricity Board, Old Quila Mubarak, Sheesh Mahal and Government Mohindra College, with a new look.
New high mast lights have been installed on the Phatak Number 22 Road from Leela Bhawan Chowk and the road dividers have been given a fresh coat of paint, colourful banners and buntings are fluttering across the city.
Connoisseurs of art and music will be making a beeline to the foreyard of Sheesh Mahal, where a cultural evening will be organised every day during the festival.
The Sheesh Mahal is buzzing with activity as craftsmen from across the country are expected to arrive tomorrow with their wares.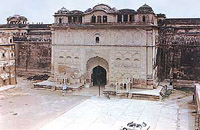 Colorful tents are being put up and stalls of crafts of different states are being readied. An architectural landmark of the city, the Old Moti Bagh Palace, which now houses the National Institute of Sports, has been a hub of activity for the third year running.
The Moti Bagh Palace was built in 1847 by Maharaja Narendra Singh at a cost of Rs 5 lakh. Mahraja Narendra Singh was such a great builder that he is often compared with Maharaja Swai Jai Singh of Jaipur.
The fountain located in the heart of the city where the mall terminates at the Fountain Chowk was redone last year courtesy Hindustan Petroleum Limited. The old structure of the fountain was refurbished by replacement of stones and preserved by applying protective coatings.
Eighty-five designer light fittings have been installed at the fountain which have enhanced the beauty of the mall.